Jersey 'lucky' to avoid ash dieback disease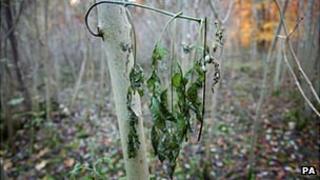 Jersey has been lucky in avoiding further spread of a tree disease, according to the head of plant health.
Scott Meadows from the States of Jersey Environment Department said there had been no signs of the ash dieback disease this year.
The fungal infection is wiping out woodlands in Britain and was found in a single tree in Jersey last autumn.
Mr Meadows said they would know more as trees come into leaf but so far tests have come back clear.
He said people should monitor ash trees in their own gardens.
"So far we have found nothing. We continue to monitor sites with high levels of ash trees, and we have had no positives this year.
"I think we were lucky, between 1997 and for five years we imported 6,000 ash trees from the UK and the majority came from a nursery that had an outbreak.
"We were lucky in that the trees that came from those nurseries came from parts that did not have ash dieback," he said.
There is still a ban in place on importing ash trees into Jersey and Mr Meadows said this would remain for some time.