Jersey's Durrell wildlife park Andean bear dies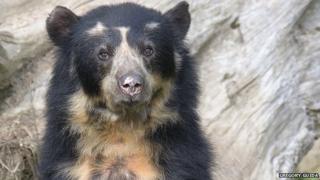 The last Andean bear at Durrell wildlife park in Jersey has died after a number of age-related illnesses.
The wildlife trust says Barbara was a "firm favourite" with visitors and had been at the park since 1987.
Keepers took the decision to put her to sleep after her arthritis and other conditions got worse.
She was born at a US zoo in December 1985. Her partner of 28 years, Wolfgang, died at the park in March.
During their time at Durrell Barbara and Wolfgang produced seven cubs. The trust says this "represented an important contribution to the captive population of a vulnerable species".
Dom Wormell, head of mammals at the zoo, said it was a sad moment.
He said: "Barbara is very old, her health had been not so great in the past couple of years and she had serious hip problems and other things niggling away at her.
"We decided the best thing to do was to put her away quietly and stress-free as possible. It was very, very hard but the time had come, it was the right decision."
Barbara had been exhibiting signs of declining health for some time; she had suffered alopecia (hair loss) for some years and more recently was affected by arthritis.