Jersey minister welcomes change to status of bus service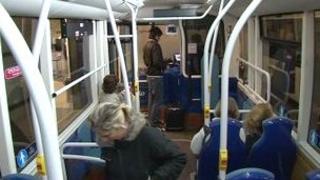 Jersey's Transport Minister has welcomed plans for the island's bus service to be recognised as an "essential service".
LibertyBus said if the union Unite agreed, it would mean industrial action would have to be announced 20 days in advance, instead of seven.
The minister Deputy Kevin Lewis said it was important bus users were given as much notice as possible.
Nick Corbel, from Unite, acknowledged the idea had been discussed.
He said talks were continuing and it was a difficult time for staff.
Deputy Lewis said: "[Essential service] will give members of the public, particularly vulnerable persons who rely on the service, time to try and make alternative plans, for example reorganising medical appointments or finding friends to provide lifts for children.
"I know when strike action was taken in the past, it was very difficult for bus users to make alternative arrangements and there were quite a number of people who, despite the publicity, had not heard there would be no buses."