Jersey resident 'finds rare leatherback turtle egg on beach'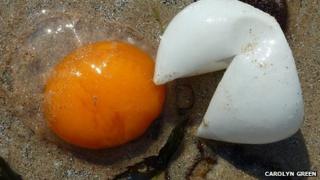 An egg thought to be that of a rare, endangered leatherback turtle has been found on a beach in Jersey.
Experts believe it may have been the first such discovery in Channel Island waters.
Dog walker Carolyn Green, spotted the soft-shell egg on the beach in St Brelade's Bay on Jersey's south coast.
Jersey marine group Littlefeet International, said experts had identified the egg as being from the rare sea turtle.
Andy Farmer, of the group, said he was "completely baffled" by the discovery, made last week.
'Very fresh'
He said: "As far as we know it will be the first recorded sea turtle egg in Channel Island waters at least, possibly in British waters.
"They are a critically endangered species and the closest they nest to us would be in Morocco or perhaps Italy."
Mr Farmer said leatherback turtles usually nested in the Caribbean at this time of year but were known to swim into British waters to feed on jellyfish.
He said Mrs Green's dog was seen playing with something white and round on the beach last Thursday and as it broke open she realised it was a soft-shell egg.
Mr Farmer said the egg was still in "a very fresh state" when it was found.
He is asking islanders to report any sightings of sea turtles off Jersey to them or the Societe Jersiaise marine biology department.
He is also asking people to look out for more eggs and any strange large tracks on the island's beaches.