Jersey and Guernsey 'considering' major GCSE changes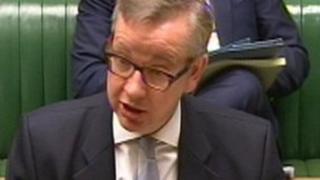 Jersey and Guernsey are considering whether to act on major changes to GCSE's in England.
Education Secretary, Michael Gove, announced plans to replace the qualifications with demanding assessments earlier.
He said there would be more focus on end-of-year tests and a change from letters to numbered grades.
Guernsey's Education Minister, Deputy Robert Sillars, said there were "many options to be considered".
'Not yet clear'
Deputy Sillars said: "Guernsey is a separate jurisdiction with its own curriculum framework with our secondary schools offering a range of public exam courses including GCSEs, iGCSEs, BTECs and other recognised qualifications.
"We are currently reviewing the curriculum and looking at developments in England and other jurisdictions but as yet have made no decisions about the way forward from 2015."
A Jersey education department spokeswoman said: "These latest plans are the subject of consultation over the summer so it is not yet clear exactly what will be implemented.
"Once there is a firm decision and we have more details we will assess the implications for Jersey and make a decision about how to proceed."