Nigel Truscott, Jersey's St John Ambulance commander, dies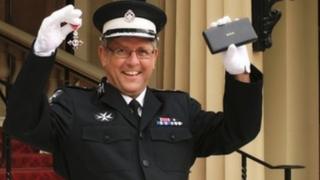 Retired police inspector and commander of St John Ambulance in Jersey, Nigel Truscott, has died.
The 57-year-old died earlier after what his family described as a "long and courageous" fight against leukaemia.
Mr Truscott first volunteered at St John Ambulance in 1969 and stayed with the organisation for more than 40 years.
He became commander three years ago and last year was recognised with an MBE for his services to first aid.
Peter Walsh, from St John Ambulance in Jersey, said: "Nigel was a really dynamic person who made a huge difference to the St John Ambulance you see in Jersey today.
"We now have over 150 defibrillators spread around the island and that was an initiative Nigel started back in 2001."
'Wise and respected'
Mr Truscott was also well known for his work as a police officer, moving up through the ranks after joining in 1973, reaching inspector before his retirement in 2005.
In that time he was decorated with the Police Long Service and Good Conduct Medal and also the Queen's Golden Jubilee Medal.
A Jersey Police spokeswoman said: "Nigel will be fondly remembered by all who worked with him.
"He was a friendly, approachable, wise and respected man and he will be sadly missed. Our heartfelt condolences go out to his family and loved ones."
Mr Truscott is survived by his wife, two children and four grandchildren.