Jersey to share more tax information with the UK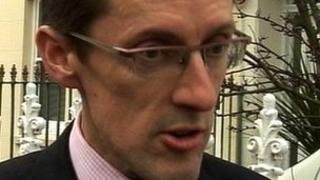 Jersey's government says it has approved measures which will strengthen the fight against tax evasion.
Chief Minister, Senator Ian Gorst, said the States had agreed to disclose details about the assets UK residents have in Jersey.
It is similar to an agreement the island has with the US over tax information sharing.
Jersey companies will inform UK clients of their duty to declare income for tax purposes as part of the arrangement.
Senator Gorst said it was among a number of measures the island was signing up to to over taxation and transparency.
He said: "This is part of a package of proposals we have agreed with the UK to combat tax evasion.
"We have made it clear we have no wish or need to accommodate those engaged in tax evasion.
"We have agreed to enter into an agreement with the UK which will provide for the automated exchange of information."
Before it comes into force, UK taxpayers with accounts in Jersey are being encouraged to get their tax affairs in order by finance officials.
They have the opportunity to volunteer information about their wealth now, and reduce the penalties they could face when the deal takes effect.