Jersey Battle of Flowers changes start of parade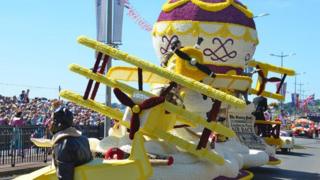 Floats at Jersey's annual Battle of Flowers will start lined up along the parade route instead of coming in from the west for the first time.
The organisers of the parade have decided to change the way the floats enter the arena in accordance with a similar event in France.
It means crowds will be able to see the exhibits along the parade route first before they move around the arena.
Battle exhibitor Steve Bouchard from the Optimists says it is a bad idea.
He said: "If we get this long it could affect Battle for years. I can't understand why we would want to ruin the spectacle of Battle.
"You wouldn't go to the theatre and then stand around for hours watching the stage crew putting the stage together and the cast milling around getting dressed.
"You want the spectacle of watching the curtain go up and we are going to lose that. The paying public don't want to sit there watching dancers asleep on the ground watching a single float for an hour."
Tony Perkins from the Battle of Flowers committee said one of the changes was to allow people to see the floats more quickly.
He said they were also considering moving the festival to Friday and Saturday night instead of the current Thursday and Friday.
Battle of Flowers is on Thursday 8 August with the Moonlight Parade the following day.