Jersey Post turnover down by 32% to £44m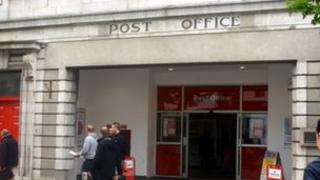 Turnover at Jersey's post office dropped by 32% in 2012 to £44m according to the States owned company's annual report.
Despite the drop in turnover, the firm said it was able to produce a "modest profit".
Profit before tax was £1.3m, which was 53% down on 2011.
Chief executive Kevin Keen blamed the drop on the end of a tax loophole allowing low cost items to be sold from Jersey to the UK without charging VAT.
The company delivered 35 million items of "traditional mail" including letters and cards, down 6% on 2011.
The amount of marketing mail delivered was up by 64% on 2011 levels.
Mr Keen said: "The progress at Jersey Post during 2012 was substantial and positive, in spite of the massive impact on our business and the island following the withdrawal of Low Value Consignment Relief in April."
Chairman Jurat Mike Liston said the company expected turnover to reduce again in 2013.
"However, we believe that our continuing drive to reduce costs will enable us to remain in profit whilst further improving service quality. " he said.