Jersey fire service says emergencies at 40-year low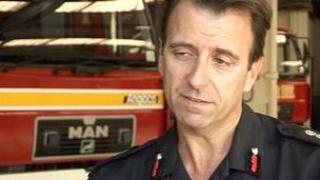 The number of emergencies faced by Jersey's fire service in 2012 was at a 40 year low, according to its annual report.
The figures were published in the Fire Service Annual Review. The statistics also show a small increase in the number of fires.
Chief Fire Officer, Mark James, said a third of all calls for fires in Jersey were related to smoking.
He said officers went to a total of 1,067 emergencies in 2012.
Mr James said: "Last year the EU brought in a new law for cigarettes to be fire safer so they all self extinguish now. That should help bring down the number of fires."
He said the safety-first message, both at home and outdoors, seemed to be working.
The number of rescues involving the fire service were up on 2011, but overall the call outs have fallen and are 24% lower than the average from 2008 to 2012.
Road accidents requiring assistance from the fire service have also dropped. Crews were called to 55 incidents last year, which was the lowest number for five years.