Jersey States plans to sell more housing stock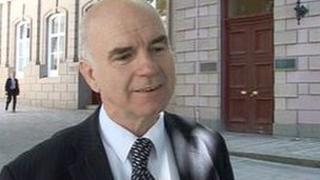 Jersey's government plans to sell more of its housing stock to allow it to fund improvements to social housing.
It is extending a scheme that helps people to buy their own home who may not have been able to afford it otherwise.
Since it was launched in 2007, more than 50 families have purchased a home with States support.
Previously it was only open to social housing tenants, but it will now be available to more people.
The deferred payment scheme works by valuing properties at the current first time buyer rate and then giving people the option of putting off up to 25% of the cost of the property.
Affordable housing
There are currently six properties available under the scheme, priced at about £350,000 for three bedrooms.
The States introduced the Affordable Housing Gateway, which is a register of people who want to buy their own home but cannot afford to buy on the open market.
The average price of a three bedroom property on the open market is about £450,000.
The Housing Minister, Deputy Andrew Green said: "The introduction of the Affordable Housing Gateway has meant that we can now identify a wider pool of people in housing need and there is a clear and significant demand for families to buy an affordable home."
People applying to buy a house with support from the States will be means tested. Deputy Green said this was "to ensure that each home sold is put to the best possible use".
The Housing Department administers a total of 4,538 properties on behalf of the States, used by about 13,000 people.