Jersey 'not all about beaches' says tourism boss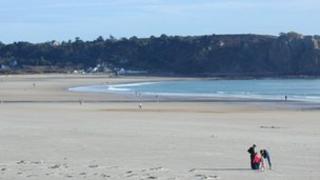 A lack of beach weather has not affected visitor bookings for this year so far, according to the head of tourism in Jersey.
David de Carteret said the "patchy weather" had limited impact as most visitors came for activities not dependent on weather.
His comments came as a water sports company owner said his business was 80% down on this time last year.
Jono Steventon said it had been "a very tricky season".
Mr de Carteret said although the island was marketed as the warmest place in the British Isles, it was "not all about beaches".
He said walking was one of the most popular activities, especially with tourists from Germany.
But Mr Steventon, who has offered hire equipment and training in St Brelade's Bay for more than 16 years, said a fall in business meant he was looking for "other things to do".
He said it was worse than last year when the six weeks of sunshine in the school summer holidays had got him "out of trouble", but the forecasts this year did not look as positive.
Tony Pallot, of Jersey Met Office, said it had been one of the coldest springs on record and the summer was not likely to be hot.
Rain-friendly
He said: "The trend is that we will probably see the weather we have experienced over the last four weeks - sunny periods and pleasant days but with unsettled spells as well.
"When we do see the sunshine it will only be for a couple of days at a time."
Jersey Heritage, which runs a number of tourist sites, has started putting a rain-friendly symbol in brochures to highlight areas under cover in response to a number of poor summers.