Jersey-France electricity cable to be buried under seabed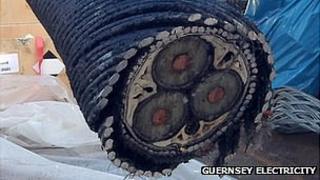 Jersey Electricity has explained to fishermen how it will lay a new Jersey-France electricity supply cable under the seabed.
The company was invited to a meeting between French and Jersey fishermen in the island on Wednesday.
The delegates were told it would be buried two metres under the seabed.
Don Thompson, of Jersey Fishermen's Association, said laying it on the surface of the seabed would have been a "danger to the lives of fishermen".
Mr Thompson said: "As it happens, fishermen helped to design the route [of the Normandie 3] knowing where the best ground is so the cable can be buried.
"As a consequence everybody gets what they need, the cable is safe and fishermen can continue what they were doing in that area."
The new cable, the Normandie 3, will be the third Jersey-France cable and will import electricity to Jersey. It is due to be installed by the end of 2014 at cost of £40m.
Guernsey Electricity will put almost £30m into the project as it will increase the amount of energy the island can import.
Previously, up to 80% of Guernsey's electricity had been imported via undersea cables, which ran between the islands and between Jersey and France.
However, one of the two cables linking Jersey to France, Normandie 1, is out of action and is due to be replaced by 2016 at a cost of £60m.