Jersey introduces registration cards as part of law change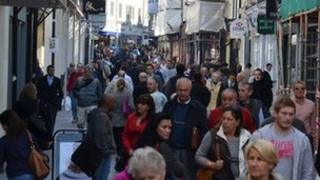 People in Jersey now need a registration card to buy or lease a home, change job or move to the island.
It replaces social security cards and is part of a change to the law on who can live and work in Jersey, which came into force on Monday.
The cards show names, social security numbers and residential status.
Anyone moving to Jersey for the first time will have to pay £75 for the registration card before they can find a job or somewhere to live.
Under the law, residential status will be split into four categories - entitled, licensed, entitled to work and registered.
Any business employing migrant workers will have to pay £175 per licensed employee and £50 per registered employee.
Visiting contractors and traders will also have to pay a fee of up to £1,500 to work in Jersey.
Employers cannot take on staff unless they have a card.
However, islanders who are entitled or entitled to work will not have to pay for the card.
People who already live in the island and do not move house or change jobs will never need a card.
Assistant Chief Minister, Senator Paul Routier, said the fees would bring Jersey into line with other areas and would meet the cost of administering migrant controls.
He said: "Our challenge as an island is enabling our economy to flourish while sustaining our environment and way of life.
"This new law is essential in achieving this by supporting local employment first, and where this is not possible, focusing immigration on areas of higher value that create and safeguard local employment."