Jersey Green Street police headquarters plans approved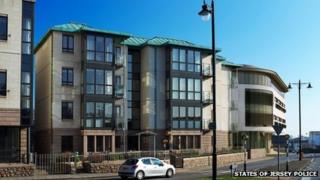 Plans to build a four storey police headquarters at Green Street in St Helier have been approved by the planning minister.
Deputy Rob Duhamel was due to make a decision on the £21m plans in April but deferred the decision after asking for more information.
The approval is dependent on a number of conditions, including an extra 50 public parking spaces being built.
The police HQ will be built on the open area next to Green Street car park.
Bicycle and motorcycle parking will also be provided on land opposite the new headquarters.
The minister said: "I have carefully assessed the representations made, including the objections raised, and on balance believe this development provides positive benefits.
"The potential impact of building our new police headquarters on Green Street is not unreasonable and will provide the much needed new facilities required by our police force."
The first planning application for the project was submitted in August 2012.