Jersey's population 'expected to rise above 100,000'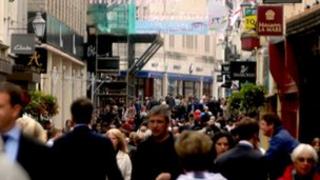 Jersey's population is expected to rise above 100,000 by the end of the year, says an assistant chief minister.
Senator Paul Routier said he believed the population was over 100,000 already as it rises in the summer months.
The latest figures from the States Statistics Unit showed that in 2012 there were 99,000 people in Jersey.
Senator Routier said: "If we look at numbers in December through births and deaths I expect we will be near 100,000 if not over it."
In the States earlier ministers apologised for the delay in introducing a policy on the maximum number of people allowed to live in Jersey.
The government was due to present a population policy this summer, but said it had been delayed and would not be ready for debate until next year.
Senator Routier said there were some big issues which needed addressing before the policy would be ready.
He said: "It is just too early unfortunately... I understand the frustration but I think we need to do this in a structured way and actually consult with the whole of the island."