Jersey Green Street police headquarters plans criticised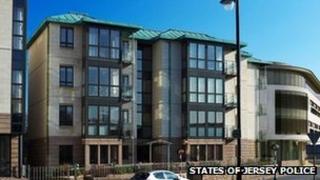 A Jersey politician has criticised the planning minister's decision to approve a new police headquarters on part of a car park in St Helier.
Deputy Judy Martin, who led a campaign against using the site, said she could not understand the minister's decision.
She said the site was not practical for the emergency services.
Planning Minister, Deputy Rob Duhamel, approved the plans on Tuesday but added 20 new conditions including another 50 car parking spaces beside the site.
Some residents and businesses had voiced concerns about noise, the loss of parking and the scale of the £21m development.
'Hole in the ground'
The decision follows almost 20 years of searching for a new home for the States of Jersey Police.
Deputy Martin said: "It is the wrong place for a police station. If you live in the east of the island forget coming to work in St Helier for the next few years, you won't get in that way up La Route du Fort.
"I am very very disappointed. I have had so much support across the whole of the island, including many of the police force, they don't want the police station in a hole in the ground next to a car park."
Deputy Chief Police Officer, Barry Taylor, said officers had welcomed the decision.
"It is tremendous news, we are absolutely over the moon. It is also a good decision for the people of Jersey too.
"This is going to be a very important civic building, well located, providing new and better facilities, and new amenities for everybody concerned."