Jersey to lose 25% of its postboxes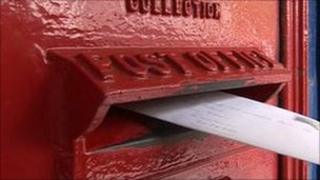 More than a quarter of the island's postboxes will be closing by the end of September, says Jersey Post.
The firm is phasing out 51 of its 178 postboxes but said there will be five new boxes added or relocated.
Jersey Post director of operations, Andy Jehan, said a review of its collection service found some boxes only got five pieces of mail a day.
He said mail volumes had significantly decreased year-on-year and there were alternative postboxes nearby.
Mr Jehan said: "Through this investigation process, we have spotted opportunities to improve local mail delivery and widening the window for post getting off-island same day.
"Our postal workers are currently driving to the edges of the island on a basis that means they often visit empty boxes."
He said closing the boxes would free up resources, control costs and will have environmental benefits.
He said collection times and frequency would also be affected by the changes.
Mr Jehan said there would be fewer collections from some boxes, and new collections from sub-post offices so mail can leave the island the same day.
From 19 August, there will be new boxes at Elizabeth Avenue, St Brelade's Bay and Mont Gras D'Eau in St Brelade.
By the end of September, there will be other new ones at Haute Croix in Trinity and Faldouet and Anne Port in St Martin.
Mr Jehan said at the end of the project, Jersey would still have "nearly three boxes per square mile".