Jersey Territorial Army unit's future secured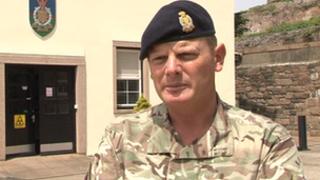 Jersey's Territorial Army unit is secure for the foreseeable future, says unit leader Maj Nick Spratley.
He said the unit faced closure as part of defence cuts in the UK that have seen squadrons such as the Isle of Wight closed.
UK Defence Minister Philip Hammond plans to bolster reservists but not before streamlining some outfits.
Maj Spratley said finding out the Jersey unit was secure was a big relief.
Jersey's territorial army is funded by the States of Jersey as part of the government contribution to the UK defence budget.
Maj Spratley says about half of the roughly £5m paid to the UK for defence each year is put back into the island through the TA unit.
He says strong support for the reservists in Jersey helped the cause.
He said: "We have honorary colonels who were previous Lieutenant Governors in Jersey and have held high positions within the armed forces.
"They can advise in to what we do in the island and what benefit we are to defence contribution."