Jersey's old sea wall in St Helier could be saved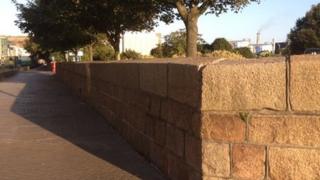 A large section of St Helier's old sea wall could be saved if changes to plans for Esplanade Quarter are agreed.
The environmental campaign group Save Our Shoreline was worried about plans to remove the original wall as part of a new Waterfront development.
It has been campaigning for the wall, which currently surrounds the Esplanade car park, to be preserved.
Planning Minister, Deputy Robert Duhamel, said he asked for the scheme to be changed to save part of the wall.
Save Our Shoreline says the wall is a significant part of the island's history.
In May the Minister said he would approve the office building.
The States of Jersey Development Company wants to turn the 520-space Esplanade car park into a finance hub.
The States-owned firm wants to build six office blocks with underground car parking and create public pathways.
The planning permit and legal agreement are yet to be signed and Deputy Duhamel is now looking at the altered plans, featuring parts of the sea wall, before making a final decision.