Au pair Tuula Hoeoek murder: Jersey Police in new appeal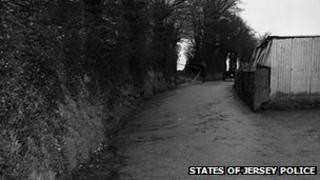 Jersey Police have made a further appeal for information in an attempt to solve the murder of a Finnish au pair in 1966.
Tuula Hoeoek, 20, was found on New Year's Eve 1966 at the entrance to a field at Rue Laurens in St Clement.
Fifty calls have been made to police since an appeal in January.
As a result police are keen to understand why she moved jobs in October 1966, which may be related to a disturbing phone call she received.
Miss Hoeoek was last seen waiting at a bus stop in Georgetown in St Saviour at about 20:00 GMT on 30 December 1966.
Police said she was due to visit friends at the Pontac Hotel in St Clement, but was found the following morning having been beaten around the head with "some form of heavy implement".
'Keen to leave'
Acting Ch Insp Lee Turner, who is leading the investigation, said: "[We] have made significant progress in identifying and investigating a number of persons of significant interest, as well as eliminating some persons previously of interest.
"Presently we continue to work on a couple of areas of particular interest, and it is with these in mind that one last appeal for assistance is being made.
"Tuula had a number of jobs during her time in Jersey and the rationale for moving between these is understood, with one exception.
"Early in October 1966 she started work as a waitress at the Southampton Hotel at the Weighbridge and indications are that initially she seemed very happy here.
"By the end of the month however she was actively looking for work elsewhere and investigators are still trying to determine why she was so keen to leave."
He said: "At the beginning of December she received a phone call which disturbed her to the extent that she insisted that details of her next forwarding address were not revealed to anyone.
"The identity of this caller is still unknown."
Acting Ch Insp Turner said: "Tuula was clearly nervous about a certain person or persons identifying where she lived and this continued up until the day of her death.
"It is with this focus in mind that one last appeal for information is being made.
"We are hoping that with this information someone may have a missing piece to the puzzle; something they thought was irrelevant but could be critical.
"If in doubt please call us."