Alan Whicker funeral held in Jersey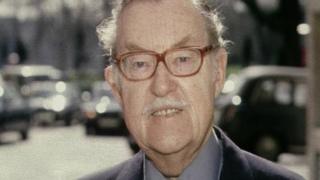 The funeral of journalist and broadcaster Alan Whicker has been held at Jersey's Holy Trinity Church.
About 150 people turned out to honour the 87-year-old, who died at his home in the island on Friday.
In a TV career that stretched over nearly six decades, Whicker was best known for his long-running documentary series, Whicker's World.
He moved to Jersey in 1969 and lived in the parish of Trinity with his partner Valerie Kleeman.
The Reverend Geoff Houghton, rector of the church, conducted the ceremony before Whicker was laid to rest.