Jersey politicians reject referendum reform move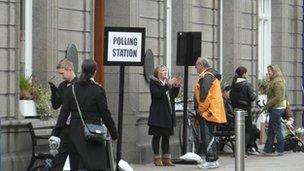 Politicians have rejected plans to reform Jersey's parliament voted for in an island-wide referendum.
Islanders supported a move to abolish the office of senator, reduce the number of politicians in the States and introduce large voting districts.
Members voted 28 against, 21 in favour. Constable Len Norman abstained from the vote.
The decision means suggested changes to the reforms put forward by some politicians were not debated.
The referendum, held in April, put three options to the public - two to change the system and one to maintain the status quo.
The winning option received 8,190 votes after a 26% turnout from registered voters.
It suggested a reduction in the number of politicians from 51 to 42, with 30 deputies elected from six equal districts and a constable elected from each of the 12 parishes.
Following the vote, Constable Simon Crowcroft resigned as chairman of the Privileges and Procedures Committee, which brought the proposals to the States.
Deputy Montfort Tadier, vice chairman, said: "Clearly feelings and passions are running high and that is not the kind of atmosphere [in which] level-headed decisions are made.
"If we could have voted on the amendments first I think it would have got through, it would have created near voter equity, taking away the greatest inequity and I could have got behind that.
"I don't see the harm in leaving this a few weeks, let the dust settle.
"I would still like to see reform by 2014 even if it is just in the way we elect members to this assembly, moving to single transferable vote."
Related Internet Links
The BBC is not responsible for the content of external sites.