Jersey politicians call for compulsory cycling helmet use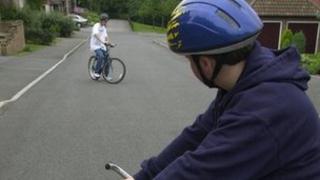 Helmets should be compulsory for all cyclists in Jersey, according to two Jersey politicians.
Constable John Refault said two recent accidents involving cyclists highlighted the importance of wearing a helmet.
Deputy Andrew Green convinced the States of Jersey to make it compulsory for children to wear helmets in 2010.
He is the chairman of Headway UK and is working with Constable Refault to extend the law.
Earlier this year, a cyclist was killed at Beaumont Hill and now a man is in a UK brain injury unit after coming off his bike in the same area.
Constable Refault says along with making helmets compulsory, more penalties should be introduced.
He said: "Can we actually translate a transgression to points on a driving licence?
"I think we have to come up with a penalty that makes road users comply with the rules of behaviour on public roads."
In 2010 a proposition to make it compulsory for everyone to wear helmets was lost by one vote.