Sally Minty-Gravett completes fifth channel swim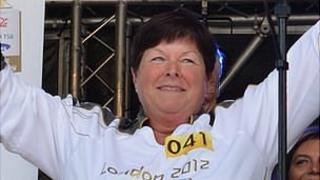 An Olympic torchbearer is thought to have made history as one of the only women to have swum the English Channel across five different decades.
Sally Minty-Gravett, 56 from Jersey, who first made the crossing 38 years ago, completed her fifth swim in the early hours of the morning.
However, after 18 hours in the water she decided not to attempt the return leg as planned.
Her previous cross-Channel swims were made in 1975, 1985, 1992 and 2005.
One of her support team said in a statement: "Unfortunately we have to be realistic about these things.
"Sally has said that she doesn't think she's got another 18-hour swim left in her as she's running on empty.
"But on the bright side, yes there will be one, when she lands she will be the only woman to have conquered the channel over five decades."
Swimming coach Mrs Minty-Gravett was chosen to carry the Olympic torch along St Helier's seafront in the run-up to the 2012 Olympic Games.
The swim raised money for the Royal National Lifeboat Institution.