Jersey Police Officers take to the bus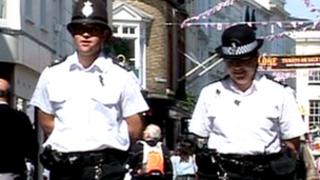 Some Jersey police officers will be catching the bus to get to rural areas under new plans by the island force.
Officers said the new scheme, which started on Saturday, meant passengers would get to chat to officers as they take a ride.
Jersey's bus operator, Liberty Bus, is offering the journeys to uniformed officers on duty free of charge.
Insp Mark Coxshall came up with the idea and said it started as a way of getting young officers out.
He said: "It goes back to the younger officers who are not yet graded to drive police vehicles but we still want to get them out into the rural communities, parishes and villages.
"It isn't about walking past community members, it is about giving them time to stop and chat and listen to any concerns they are going to have."