Jersey beaches get new recycling stations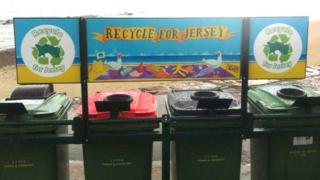 Recycling facilities have been put on Jersey beaches to try and encourage people to dispose of waste sustainably, according to the States.
Jersey artist Edward Blampied has designed signs for the banks to complement their surroundings.
A States spokesman said waste was a resource the island could use.
The recycling points have been established at eight beach locations across the island as part of the first phase of the project.
They can be found at: Green Island; Gunsite; Ouaisne car park; Wayside, St Brelade's Bay; St Brelade's Bay promenade; La Braye slip; Le Port car park; Greve de Lecq promenade.
Beach cleaning volunteer, Jez Payne, said the real challenge was educating people about the importance of keeping the beaches clean.
He said: "Anywhere that has litter on the beach doesn't look good for anybody wanting to sit and enjoy themselves.
"The problem we have is it affects the wildlife around the island especially polystyrene which seabirds think is food.
"You have things like plastic holders from cans and they float then a lot of diving birds get them caught around their neck."