Jersey bus operator 'astonished' at strike vote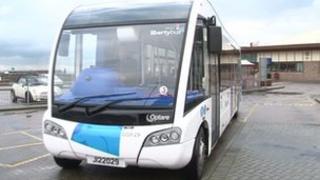 Jersey's bus operator has described a decision by staff to strike as "astonishing".
Unite the union said that it would announce strike dates next week, after members voted "overwhelmingly" for strike action.
The dispute between LibertyBus and drivers is about changes to shift patterns and working practices.
LibertyBus, which took over the service in January, says it does not understand the reasoning behind strike action.
The company said it had been trying to set up a meeting with Unite since it announced the result of the ballot on Wednesday.
It had now arranged a meeting on 1 August.
'Treated with contempt'
Unite regional officer Nick Corbel said when the company took over drivers were promised there would be no changes to their terms and conditions.
He said: "LibertyBus has not honoured this understanding and our members are rightly angry at the hardline attitude the company has taken against our members, including the unfair dismissal of two drivers.
"The excessive shift patterns could mean the drivers being available for work for up to 13 hours, but only being paid for nine hours. This is fundamentally unfair."
A LibertyBus spokesman said: "They are using strike action as a first resort, rather than a last resort.
"It is frustrating in the extreme that we and the travelling public of Jersey are treated with such contempt.
"To be clear, there is only one driver seeking reinstatement and to reiterate on the matter of shifts, Unite have not approached LibertyBus on this issue.
"They know we cannot reinstate a driver convicted in court, but on other issues, we need to know what their difficulties are, in order for us to try to address them."
The company said 51 members of staff out of 154 voted, which works out as 33% of the workforce.
A 24-hour strike was held on 30 December by bus drivers working for previous operator Connex.