Jersey jobless down for third month, says States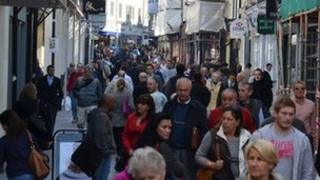 The number of people looking for work in Jersey fell by about 30 in June, according to the States of Jersey.
There were 1,850 people looking for work in June, the third drop in a row.
Jersey's jobless figures rose above 2,000 for the first time earlier this year and had doubled in four years.
The island's government's pledged to tackle unemployment as a priority after the loss of a tax loophole allowing Jersey companies to sell low value items to the UK VAT free.
The figures also show the number of Portuguese and Madeiran people registered as unemployed has doubled in the past two years.
The States statistics unit also takes into account seasonal variations in the job market. That adjusted figure also shows a drop in the number of people out of work.
In July, the States introduced a registration card for anyone wanting to lease or buy a home, change job or move to the island.
The card will cost £75 for anyone moving tot he island for the first time and any business employing migrant works will have to pay a £175 fee.
Assistant Chief Minister, Senator Paul Routier, said the fees would help the States to support local employment first.
He said: "This new law is essential in achieving this by supporting local employment first, and where this is not possible, focusing immigration on areas of higher value that create and safeguard local employment."