Grouville Constable Dan Murphy dies aged 73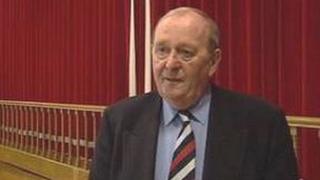 The Constable of Grouville has died, aged 73, after an illness.
Constable Dan Murphy served his parish for ten years, as well as being the Vice-Chairman of the Constables Committee.
Tributes have been paid to the Constable, describing him as a "special man" who "did not suffer fools".
He was first elected to represent Grouville in the States of Jersey in 2003 and was a member of the Commonwealth Parliamentary Association.
Chief Minister, Senator Ian Gorst, said Constable Murphy was full of energy and would be missed.
He said: "He served his community with commitment and energy. He was a long serving and valued member of the parish.
"He served the Comite des Connétables as Vice Chairman, and he served his Island as a respected member of the States Assembly for a decade.
"He will be remembered with great fondness."
'Full of life'
Grouville Chef de Police, Centenier Charles Dix, said Constable Murphy enjoyed life to the full and loved his parish.
He said: "I remember Dan, having known him for 30 years, for his ebullient style. He enjoyed life to the full, made people happy but this was the last thing we expected.
"He had been ill for a few months, had been in hospital, but [with] no hint or suggestion something as sad as this would happen."
Constable Murphy served as Vice-Chairman of the Constables Committee, where his Chairman was Constable John Gallichan. He said all the Constables were saddened to hear the news.
"Dan was a great character, he was very keen on his parish and had a strong affiliation with Grouville and parish life," said Constable Gallichan.
"He had three elections and was unopposed last time due to his popularity in the parish."
Constable Murphy was born in Grouville in 1940 at the start of the German occupation of Jersey. He went to school at Victoria College and worked in the finance industry.