Jersey States could debate referendum result again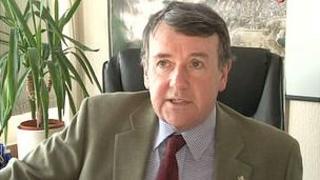 Campaigners hope to bring government reform proposals back to the States of Jersey.
Earlier this month politicians rejected a move for reform, which had been voted for in a referendum held in April.
Deputy Sean Power said the rejection of the result of the referendum had been a "slap in the face" for the public.
He said he and others who had campaigned for reform option B hoped to bring the proposals "in some shape" back to the States in the autumn.
Option B suggested the number of politicians in the States be cut from 51 to 42, with 32 deputies elected from six large voting districts, 12 parish constables elected in their parish and the removal of the position of senator.
Many of those who voted against the reform motion felt it did not provide equal representation across the island with residents in St Helier, the island's most heavily populated parish, having fewer politicians representing them than those in other parishes.
'Overwhelmed by response'
The Privileges and Procedures Committee, which brought the proposals to the States, has already begun work on alternative proposals for reform.
However, Deputy Power believes not listening to the referendum result could lead to public unrest in the island.
He said he had been overwhelmed by the public response.
"I've never known anything like this," he added.
Deputy Power said based on the reaction from the public it was going to be a big election issue when the island next went to the polls in 2014.
He said as 85% of the 17,000 voters in the referendum were in favour of some form of change it was clear the public wanted reform.