Jersey senator wants compulsory sprinklers in new homes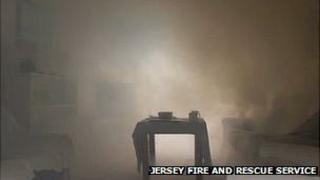 All new homes in Jersey could have to be built with emergency sprinkler systems, if a politician can get enough support.
Senator Lyndon Farnham said the move could save lives, avoid property damage and bring insurance premiums down.
New care homes and high-rise buildings are already required to have sprinkler systems installed.
In addition, smoke alarms have already become compulsory in every room of every newly built home.
Senator Farnham, Assistant Minster at Home Affairs, said he wanted to generate support from fellow members of the government and hoped.
Martin Maguire, fire safety officer at the Jersey Fire and Rescue Service, said: "We can take between three and 14 minutes to reach you. Full fire growth in a room can take minutes, so you can imagine the size a fire would be when we get there.
"A sprinkler will hold the fire at bay, maybe even put it out and save your life."