Jersey surfer calls for change to beauty spot camping rules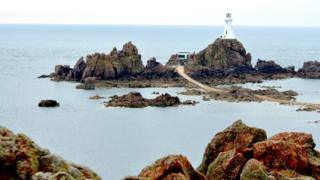 Rules could be relaxed on camping overnight at Jersey beauty spots if there is enough support for the move.
Surfer Brett Muldoon started a campaign after being told he could not stay overnight in his campervan and he faced a fine of up to £500 if he did.
The 1960s law was introduced to stop people living in the island illegally.
Peter Le Gresley, from the planning department, said it would consider making changes if enough people came forward.
He said currently campervan owners had to apply for a licence to bring them into the island and could only stay overnight at registered campsites.
Mr Le Gresley said: "When they are imported into the island we issue a licence and we put conditions on the licence. Times change, people's requirements change and I think we need to listen to what people have to say.
"If people want us to look at the way the law is structured, then we can do that, but just as many people object to caravans parked overnight in public car parks and we need to take everyone's views on board."
Mr Muldoon said there should be yearly permits that cover the costs of any maintenance necessary through damage to beauty spots caused by those staying there.
He said he had heard many similar complaints from islanders fed up with not being allowed to stay the night.
St Peter Constable John Refault, whose parish includes popular parts of St Ouen's Bay, said he was not sure it was a good idea.
He said: "As long as they are not causing a disturbance or making a mess then occasionally it is not a problem. It does start to become a problem when they do it all the time and block the water front."