Jersey developer plans for 'high quality' office space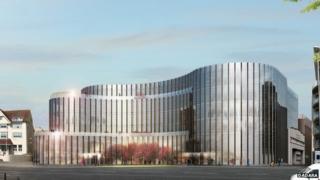 A developer wants to build a 160,000 sq ft (15,000 sq m) office development in St Helier, Jersey.
Dandara has submitted plans for a site that would run from the corner of Kensington Place to Century Buildings and sit between the Grand Hotel and Patriotic Street.
The company said it had recognised a demand for "high quality offices" in the island's capital.
The building would take over six addresses.
It would be split into offices of up to 30,000 sq ft.
But Christopher Schofield, from Save Jersey's Heritage, said the building was completely wrong for the area.
Dandara Managing Director Martin Clancy said: "It has been well documented that the construction industry is struggling through the economic downturn and our significant investment will also provide much needed employment in the island."
He said if given approval by the planning department work would start in February 2014.
It would see the removal of a number of existing buildings owned by the company.
They have been given planning permission for a number of developments on the site but have decided to propose a single large building.
The company said: "The proposed scheme will offer ground plus five floors and Dandara's previous application for an eight-storey building on the site will be withdrawn."
This is the third large office development proposed for St Helier. The others are the Esplanade Quarter on the Esplanade car park and J1 on Broad Street.