Jersey jobless could have benefits cut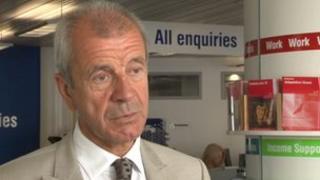 Benefit cuts could be used to encourage the unemployed in Jersey to actively seek work under new plans.
Senator Francis Le Gresley, Social Security Minister, said the "vast majority of jobseekers claiming income support would be unaffected".
He said the change would "provide a strong deterrent to the small minority... who do not do enough to find work".
Senator Le Gresley said it followed increased help for those seeking jobs.
Under the proposals, any claimant who is registered as actively seeking work who fails to undertake job-seeking activities will be given a written warning, with each further breach leading to increasing financial penalties and the eventual loss of all benefits.
'Lifestyle choice'
If those individuals prove they are genuinely looking for work, their benefits will be restored.
Senator Le Gresley said: "Staying unemployed and relying on income support is not a lifestyle choice.
"The new regulations will send a clear message to the few who may be tempted to think it is.
"We will do everything we can to help them find work, but failing to uphold their end of the bargain will result in a cut to their income support payments.
"The department will not be penalising anyone who genuinely cannot find paid work, is exempt from doing so or has a good reason for leaving a job, such as being made redundant."
The proposals are due to be debated on 8 October.