Jersey Heritage offer coin hoard tour to help fund conservation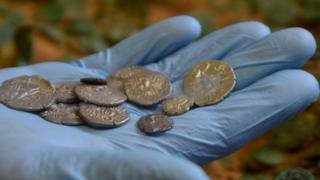 About 80 people will be given the chance to tour what is believed to be the world's largest Celtic coin hoard, Jersey Heritage confirms.
The exclusive tours will help raise money to fund further conservation work on the items.
The hoard of more than 70,000 Celtic coins was discovered in June 2012 in a Grouville field by metal detectorists Reg Mead and Richard Miles.
They will be part of the Edge of Empire exhibition at Jersey Museum in 2014.
Jersey Heritage Trust Conservator Neil Mahrer has spent the past year creating a model of the one tonne mound of silver and copper coins, gold pieces and mud.
'£10m worth'
He said: "This is the world's biggest Celtic coin hoard ever, this was a significant part of a tribe's wealth.
"It is also one of the world's biggest coin hoards and certainly the biggest coin hoard found in Britain."
The value of the hoard was estimated at up to £10m when it was first removed from the ground.
Work is now under way to prepare the coins already uncovered, and the replica made by Mr Mahrer, for an exhibition at Jersey Museum next year.
The last time it went on display in 2012 the number of visitors to the museum trebled.