Jersey minister says dedicated organ register 'will not help'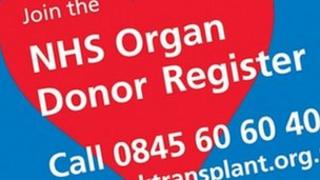 Efforts to encourage people to give their organs for transplant would not be helped by a dedicated register for Jersey, the Health Minister says.
Deputy Roy Le Herissier had asked the States to look at setting up a local organ donor register.
But Deputy Anne Pryke said the UK's National Organ Donation Register and specialists had advised Jersey against setting one up.
The minister said she would support a review of the organ donor policy.
She said she would not support the call for a register because it would not be legally binding outside Jersey.
One in ten
Currently, about one in 10 islanders are on the UK's National Organ Donation Register, but Deputy Le Herissier said more could be done to recruit donors.
Deputy Pryke said she was concerned about data protection and the need for robust monitoring of such a scheme. She also said it would cost more than £100,000 to set up.
She said: "Any proposals to link the two registers would require data protection issues to be addressed.
"Monitoring, management and administration of the register would need to be sufficiently robust to ensure that any and all amendments were actioned to eliminate the risk of irretrievable mistakes being made."
Deputy Le Herissier said having a dedicated Jersey register should help to increase the number of donors.
A spokesperson at NHS Blood and Transplant said they would encourage everyone in the islands to support organ donation.
"Each year, only a small number of people on the Channel Islands die in circumstances in which they could donate organs," they said.
"Should anyone die in circumstances where they could donate, a specialist nurse can check the register and help approach the persons family to discuss donation.
"We are happy to discuss with the Jersey Government what we can do to help them increase support for organ donation and increase donation."