Condor Ferry captain guilty of manslaughter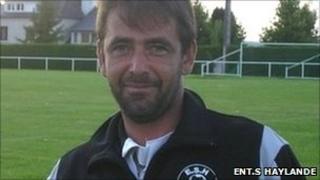 The captain and first officer of a ferry that crashed into a fishing boat, killing the skipper, have been convicted of manslaughter.
French skipper Philippe Lesaulnier died when the Condor Vitesse collided with his boat in Jersey waters in 2011.
Vitesse captain Paul Le Romancer, 58, from Strasbourg, was given an 18-month suspended sentence by a court in Normandy, northern France.
Yves Tournon, 48, from Argenteuil, was given a 12-month suspended term.
Mr Lesaulnier's widow, Delphine, said she was upset by the verdict and felt the men should have gone to jail.
"They killed my husband and they are free today to do the same thing again," she said.
"They got suspended sentences, that's nothing. It's unacceptable.
"They were in charge of a huge boat and they smashed into my husband's small boat. It was as though a lorry had hit a scooter."
The trial, held at the Coutances High Court, was told the ferry, which was travelling at about 45 mph (38 knots), was travelling too fast for the conditions when it hit the 30ft (9.1m) fishing boat Les Marquises, splitting it in two.
The collision occurred off the Minquiers reef, east of Jersey, on 28 March 2011.
A French marine accident investigation report said the Condor Vitesse's black box data recorder revealed its captain and crew had been chatting about a TV film featuring Catwoman.
The report said the men failed to notice a blip on the Condor's radar screen that would have alerted them to the presence of the fishing boat in their path as they approached it.
In their evidence, both officers said they believed the boat's radars, which had been set up in non-standard configuration ahead of the journey, were working correctly.
Captain Le Romancer accepted the ferry had been travelling fast when it hit the fishing boat, but the speed had not been excessive.
Both said they were concentrating fully on their duties at the time of the crash.
Condor Ferries is not facing criminal prosecution.
James Fulford, the firm's chief executive, said: "Condor Ferries fully respects both the process and decisions of the court.
"Whilst we welcome the conclusion that this brings to this very sad process, our thoughts and sympathies remain with M. Le Saulnier's family."