Jersey government spending down by about £20m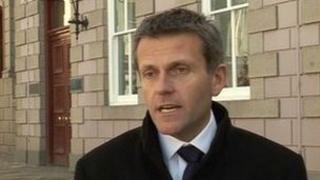 Jersey States departments are on target to spend nearly £21m less than expected this year, according to a treasury report.
The treasury introduced a half-yearly corporate report in the aim departments could better track their spending.
So far this year, there has been a £2m shortfall in the amount of money coming in, down from the expected £644m.
The report also showed departments were now forecast to need £21m less than the budgeted £638m.
Treasury Minister Senator Philip Ozouf said the figures proved his financial measures had been effective and expectations for the year had been accurate.
He said: "This half-year performance report shows that we are largely on target with our revenue expectations and well ahead in terms of departments managing their expenditure.
"This is further confirmation that the forecasts we have made in the Medium Term Financial Plan and also that the proposed 2014 Budget measures are based on robust assumptions."
Laura Rowley, Treasurer of the States, said the strategic reserve, known as the "rainy day fund", has also grown by about £55m to more than £700m.
In 2012 government departments underspent by about £27m. Senator Ozouf said that was down to careful spending and prioritising.