Jersey finance regulator's investigation to be reviewed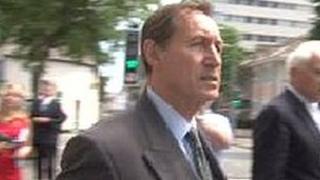 An independent review will be held into how Jersey's financial regulator investigated a company involved in fraudulent property deals.
A States debate on compensating investors who lost thousands of pounds was halted, earlier.
States members were being asked to use government reserves and then claim the money back from the Jersey Financial Services Commission.
Chief Minister Ian Gorst agreed members needed more information.
However, Senator Gorst warned: "As a general principle, it should not be the role of taxpayers to provide compensation that would have the effect of reducing the need for investors to exercise due care, to take independent advice and to avoid risky investments."
Former magistrate
Ian Christmas, Russell Foot, James Cameron and John Lewis were jailed for fraud last year.
They had encouraged investors to put money into two US property companies - Sunstone Holdings and De Lec - but stole investors' money to help settle debts.
In April, Christmas - a former magistrate - was ordered to pay an investor he defrauded £100,000 in compensation.
Mr Gorst said he would agree to review the actions of the regulator, following a request from former financial advisor Deputy Rod Bryans.
Mr Bryans praised the work of the JFSC but said: "In this particular case, I think it's important that this job is done."
"I do think we need to look more closely at the regulator," he said.
Following the decision to suspend debate Alan Jarrett, who lost £50,000, said he was disappointed that neither he nor his fellow investors had been approached by any States members for information about their circumstances and how they had been advised.
John Harris, the director general of the JFSC, said: "The commission will be happy to assist the States in this matter in the form of a review and will naturally give its full co-operation to that review."