Jersey could have fewer politicians under reform plan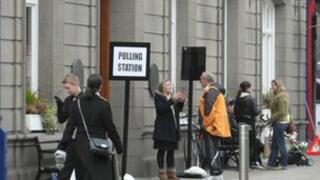 Jersey could have fewer politicians if a new plan for reform is approved in November.
Deputy Andrew Green wants a smaller assembly made up of seven senators, 12 constables and 28 deputies.
His is the sixth proposition for reform of the island's parliament after members rejected the outcome of a referendum in July.
Deputy Green's plan will also include a referendum on whether constables should have a seat in the States.
He said the question of whether constables should stay in the States was not adequately answered by April's Referendum.
His is not the only plan to hold another referendum.
Referendum plans
The Privileges and Procedures Committee has submitted proposals to redistribute parish representation and reduce the number of senators from 10 to six.
If approved, the changes would come into effect in time for the next General Election in October 2014.
At that election, voters would also face a referendum on further reform.
This would ask - in a simple yes or no format - whether the present system of senators, constable and deputies should be replaced by a single category of States members, elected by district.
Currently, 10 senators are elected on an island-wide basis, while the 12 individual parishes choose one constable each.
In addition, 29 deputies are chosen by the parishes - or areas within parishes - to represent them.
While he keeps all three types of States member under his plans, Deputy Green's plan is to create seven large voting districts, each returning four representatives.
St Helier, traditionally under represented in the States, gets 12 deputies plus a constable elected from three districts.
The remaining four districts follow those recommended by the Electoral Commission.
Deputy Green says his plan "keeps all the principles of the commission's work with fewer politicians, voter equity and super-constituencies, but it also allows further easy reform in the future".
Political commentator Adrian Lee said members wanted to introduce reforms by the next election in 2014 but would face a "huge challenge".
Other options for reform include changing the number of politicians, the type of politicians and the size of districts.
Deputy Montfort Tadier wants the States to change how people vote.
His idea would see a single transferable vote (STV) for multi-member constituencies, and an alternative vote (AV) for single member constituencies.
All the options for reform will be debated on 5 November with the hope of approving changes in time for the next election in October 2014.