Channel Island drinks suppliers defend their prices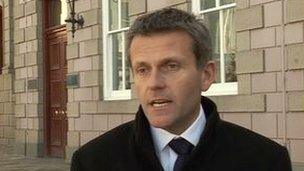 Suppliers of alcoholic drinks in the Channel Islands have defended their pricing following critical comments from Jersey's treasury minister.
During his budget speech on Tuesday, Senator Philip Ozouf was applauded by States members for saying he wanted to "shine a torch" on alcohol prices.
He said, ignoring duties, a pint of beer was typically 86p higher in Jersey than in the UK.
Randalls and the Liberation Group said the high prices reflected their costs.
The two companies supply two out of every three pubs and bars in Jersey - and a majority of those in Guernsey - and they charge their "tied tenants" up to 30% more than they charge free houses.
However, David Le Quesne of Randalls Brewery said this was justified by the fact that landlords of these tied pubs are entitled to keep their profits, while the cost of maintaining the property fell to the brewery.
He said: "We believe we don't charge what is - in the real world - a commercial rent.
"We give them a rent which we feel is achievable - where the tenant can make some profits. When you add the wholesale sale and the rental income it just about covers the investment in the property," he said.
Mark Crowther, from the Liberation Group, said: "This is a model that's been around for hundreds of years and provides people with a very good, low cost, low risk entry into running a business... and having a family home above the business as well."
However, Ian Solomon - a former tied tenant at The Chimes in St Helier - said the arrangement led to "a constant battle" to compete with hotels and free houses.
Kathy Jule, the current tenant of the Foresters Arms in St Peter, suggested the arrangement was anti-competitive.
"We might know there are cheaper offers somewhere else but we can't take advantage of that," she said. "We don't have the option of going to another supplier to get a cheaper rate."
Senator Ozouf's proposal for the 2014 budget was to increase duty on beer, cider and wine by 5%, while that on spirits will go up by 11%, if approved at the budget debate in December.
However, he urged States members to engage in a wider debate on the issue of alcohol pricing in the meantime and suggest any changes deemed to be necessary.
In 2009, the UK's Office of Fair Trading investigated a complaint by the Campaign For Real Ale about anti-competitive pricing in the pub trade there.
This was partly based on concern over tied tenancies.
Related Internet Links
The BBC is not responsible for the content of external sites.