Jersey people urged to donate to Philippines fund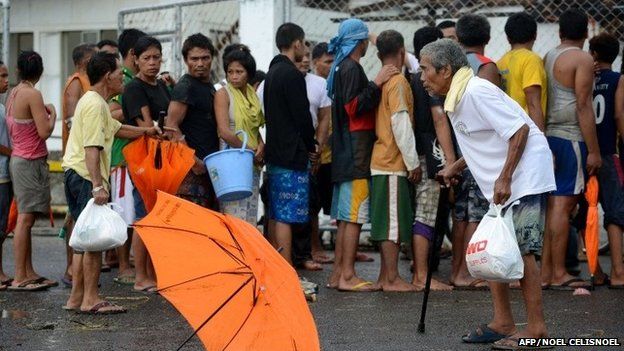 People in Jersey are being asked to help "a fellow island community" and donate money to help victims in typhoon-hit areas of the Philippines.
The Jersey government have already made a £150,000 donation through the Overseas Aid Commission.
Bailiff, Sir Michael Birt, is running the public fund and described Typhoon Haiyan as "tragedy on a massive scale".
At least 10,000 people are feared dead after the huge winds hit central Philippines on Friday.
The Overseas Aid money will be split equally between the British Red Cross, Unicef and Oxfam and will provide water, food, emergency shelter and medicines to the most vulnerable.
The commission said this was additional funding to the £90,000 given in October following Typhoon Nari, which struck the islands on 12 October and the Bohol earthquake which had a magnitude of 7.2 affecting an estimated 2.8 million people.
Senator Paul Routier, chairman of the commission said they had been consulting with various agencies since the typhoon hit.
He said: "It was key that the commission awarded funding to agencies which already had an established presence on the islands as it ensures that they are able to mobilise immediately reaching out to those in the most affected areas."
The UN says more than 11 million people are believed to have been affected by the storm and some 673,000 displaced.
Several countries have deployed ships to help the relief effort, but bad weather is hampering aid distribution.
Sir Michael said donations from the public would be channelled to provide relief through the supply of water, food and hygiene to the Philippines.
He said: "As a fellow island community, Jersey will be keen to show its support to those who so desperately need emergency supplies, be it in the form of essential medicine, clean drinking water, food or shelter."
A photographer from Jersey who is in the Philippines said aid was reaching families, but the scale of the devastation was so huge that full recovery could be decades away.
Former police officer, Bruce Liron, said in some areas people were still completely cut off because of the storm damage.
He said: "As we travelled through the affected areas we saw families standing by their homes doing all they could to survive.
"We decided to stop off, speak to people and find out how they survived, what they did when the storm hit."
Related Internet Links
The BBC is not responsible for the content of external sites.