Jersey States pay to keep coin hoard on island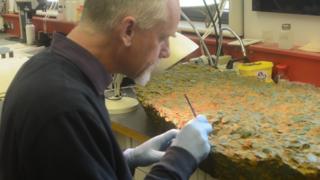 A hoard of Celtic coins and jewellery found in Jersey will stay in the island after a £738,000 government grant.
The 70,000 coins discovered in 2012 by two metal detector enthusiasts make up the world's largest Celtic coin hoard.
The Crown claimed ownership of the hoard, discovered by Reg Mead and Richard Miles in a Grouville field.
The money will go towards restoration and to pay to have the hoard valued ahead of a purchase for the island.
Jersey Heritage said the coins would go on display at the Jersey Museum next year along with exhibits from Guernsey, Brittany and Normandy.
Treasury and Resources Minister, Senator Philip Ozouf, said: "The coin hoard is also an exceptional opportunity and it would be unimaginable not to secure this treasure that is now such an important part of Jersey's heritage."
A large mound containing about 70,000 coins was discovered last year by Reg Mead and Richard Miles.
They began their hunt after a woman told them her father had found coins in a field some years before.
Jersey Heritage Trust Conservator Neil Mahrer has spent the past year creating a model of the one-tonne mound of silver and copper coins, gold pieces and mud.
The value of the hoard was estimated at up to £10m when it was first removed from the ground.
Work is now under way to prepare the coins already uncovered, and the replica made by Mr Mahrer, for an exhibition at Jersey Museum next year.