Jersey taxi service changes proposed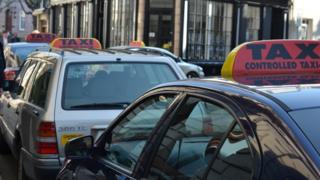 Plans to overhaul Jersey's taxi service "could throw the industry into chaos" according to the head of the Taxi Drivers Association.
The island could have a single type of taxi service under plans by the transport minister Deputy Kevin Lewis.
Currently rank taxis and private hire cabs have different operating conditions and fare structures.
Mick Tostevin, president of the Taxi Drivers Association, says the plans are poorly thought out.
"This raises far more questions than it actually answers," he said.
"This report has no action plan whatsoever, it is just throwing the industry up in the air and saying 'you sort it out'."
In a white paper, Deputy Lewis outlines plans to restructure the taxi service, improve standards and increase the number of drivers.
"We have problems at the airport where cab drivers can't pick up unless there are no taxis there," he said.
"There have been instances in the past where people have come out to get a cab and you have two drivers, a cab and taxi driver, remonstrating with each other and demanding the other leaves."
He said he wanted a "better system" to benefit about 380 people who work in the industry.
In 2012 a survey by the Transport and Technical Services department found few people understood the current two-tier system.
It also found a lack of transparency in pricing and gaps in accessibility for disabled users.
Mr Tostevin said the current system worked well but could do with some "tweaking".
"The taxi service in Jersey is very reasonable and I think the minister is taking the easy route out here," he said.
"What the minister should be doing is looking at the parts of the industry that need tweaking and easing."
In his white paper, the minister outlines a number of other recommendations including requirements for taxi drivers around fitness and customer care.
People have until February to share their thoughts on the plans ahead of the minister taking it to the States.