Jersey's Branchage festival back after two year break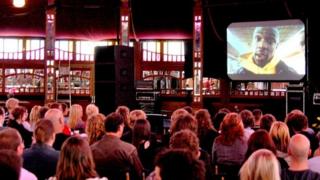 A Jersey arts festival is to return in September after a two year hiatus, organisers have confirmed.
The Branchage festival, at the end of September, will include film, theatre, comedy and educational events over five days.
It began in 2008 putting on films and other events in unusual venues across the island.
Production Manager Chris Bell said they needed the time off to raise funds and think about the festival format.
He said: "The festival team have been keeping Branchage active with events in London and Jersey as well as at Bestival and even at the CERN labs in Switzerland - home of the Large Hadron Collider.
"In the meantime we have been working on ideas for a slightly different festival format and on funding the festival to a sustainable level.
"This has been a two year process and I feel that the time out will serve us well going forward and will generate fresh excitement in Branchage."
Festival manager Nina Herve said she hoped it would generate a "buzz" among islanders and visitors.
She said: "We aim both to showcase the island's wonderful locations to the wider world and to create that magical Branchage buzz that unites the island in celebration."
In the past Branchage has featured a screening of Battleship Potemkin on a tug boat in the St Helier harbour with a live score from French electro duo, Zombie Zombie.
They have also projected Superman on the side of a dam and shown a documentary about the collapse of a bee colony in a polytunnel.
Mr Bell said: "Although the festival won't be veering a million miles away from what people have seen before, there are certainly some tweaks to the format that we think people will get excited about.
"The team is currently working deep within all corners of the local community, whose united participation will ensure that the spirit of Branchage shows off Jersey at its most culturally spectacular."
The festival will open on 24 September at the Jersey Opera House and close on 28 September.