Jersey Met issues severe weather warning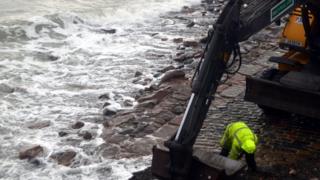 Buildings could be at risk of damage in winds of up to 80mph which are forecast for Jersey later, the Met Office said.
Jersey's Met Department is warning people to beware of falling trees and flying debris and to secure garden furniture.
The Transport and Technical services department spent more than £200,000 repairing damage to sea defences after previous strong winds and high tides.
Forecasters say the wind is expected to peak between 18:00 and 00:00 GMT.
The Met Department says people should not go out tonight unless their journey is essential.
Flights between Jersey and Guernsey have been cancelled due to crosswinds at Guernsey airport. There are also no fast ferries expected at the harbour due to heavy winds.
States of Jersey Police closed the island's main road, Victoria Avenue, on Friday evening due to the risk of waves coming over the sea wall.
A spokesman for the police has warned people not to put themselves in danger.
He said: "We are monitoring and requesting that people stay away from the area and not place themselves in any danger or take unnecessary risks to take photographs."
Although Friday's tide is not as high as the one that caused £200,000 of damage, forecasters say the onshore winds will push it on to the south coast.
Met officers say it is enough to throw debris on to roads, and could cause flooding.
Transport Minister Deputy Kevin Lewis said it was not possible to put an exact figure on the cost of repairing existing defences.
"We already had plans in hand to put extra height on a few of the sea walls but we need to go down as well as up," he said.
"What we've seen with the storms we've had is the sea walls can be easily undermined."
He said they were already spending about £1m per year on maintaining and improving defences.