Jersey volunteers find hundreds of seabirds washed up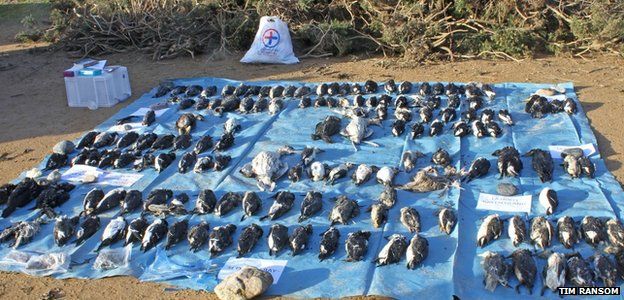 Hundreds of dead seabirds have washed up on Jersey beaches since the storms at the start of February, wildlife experts confirm.
Dr Glyn Young, from the Durrell Wildlife Conservation Trust, said the level of dead seabirds showed they were struggling for survival.
Kittiwakes, cormorants and smaller seabirds such as oystercatchers and turnstones were among the birds found.
He said they had been unable to feed in stormy seas and winds of up to 100mph.
He said: "We could only guess what it must be like out there for small birds that need to be able to dive for fish in roaring seas and winds up to 100 mph.
"The recent storms have been devastating for seabirds in Jersey, with many simply becoming exhausted and dropping into the sea."
More than 30 volunteers joined a National Trust for Jersey bird count on Sunday, checking all of the island's beaches for seabirds.
Cris Seleras, from the National Trust for Jersey led the count, with volunteers bringing birds to Ouaisne beach.
"Only yesterday, in just one day across the island we counted 164 birds, but it is likely to have been a lot more than that.
"We think we only got about half of them, we couldn't go through all the seaweed. On the same Sunday an hour later people doing a beach clean in the same spot found 12 birds we did not find."
Ms Seleras said they were putting a lot of effort into counting the birds that had come from across the British Isles. She said it was a very unusual occurrence.
"It is one storm after another, after another, they can't feed in this weather, they get weak
"The majority of the birds are auks, they come from breeding colonies in Scotland, Scandinavia and elsewhere. They come from anywhere. They have been at sea in the North Atlantic, they get hit by the weather and currents take them to the islands.
"The impact of this storm will be felt across the UK and particularly our local birds like the Shags. I think we will need to do a full review of the health of our breeding population this year."
Dr Young, who is a conservation biologist, said the scale was not unprecedented, but it was very rare.
"The local bird population had already gone through a massive decrease over the last five years. The biggest threat to them as far as we can see is the state of the sea.
"This is not unusual but it is not something that has happened for a few years. It is what happens in these storms, they are out there in the Atlantic, probably flying back from further south but get caught up in it."
Ms Seleras said: "It was upsetting for people that the first puffin they see is a dead one, they hope to see a live one. It was sad, they are beautiful but the count was essential.
"At every tide more birds will come up, it is important if people find them to take a picture, bin the birds and report it."
Related Internet Links
The BBC is not responsible for the content of external sites.