Severe Weather warnings issued for Channel Islands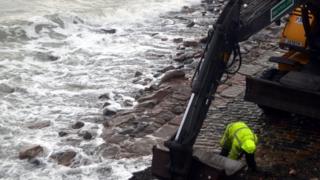 Weather warnings have been issued for the Channel Islands by the Jersey Met Office.
Forecasters warn that a combination of heavy winds and a high tide could cause spillage over sea walls and debris on roads.
The Jersey Met Office issued a gale warning with westerly winds up to 60mph in the next 12 hours.
Storms early in February caused damage put at tens of thousands of pounds to sea walls and defences.
Isolated thunderstorms have also been forecast, but they are expected to die out overnight to be replaced by persistent rain and hail showers on Friday.