Bergerac rerun postponed owing to abuse inquiry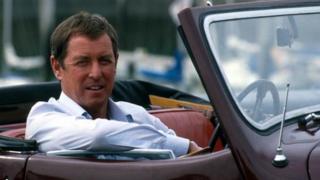 A full rerun of the detective series Bergerac has been dropped by the BBC as it features former Jersey children's home Haut de la Garenne.
The building was at the centre of a historical child abuse investigation that found a number of instances of abuse against former residents.
In Bergerac the building, then unoccupied, doubled as a police station set.
John Nettles, who played Jim Bergerac, said he was "disappointed".
He said: "I am not angry, I am disappointed because I was looking forward to seeing them again, as I haven't for a few years."
'Sensitive nature'
The first three series, before the show started using Haut de la Garenne, are currently being shown on BBC Two.
The corporation had planned to show all nine series over the next two years.
An inquiry looking at allegations of abuse in children's homes and fostering services in Jersey from 1960 to the present day is due to start this year.
A spokesman for the BBC said: "Due to the sensitive nature of the public hearing into incidents at Haut de la Garenne and out of respect for the victims, the BBC has decided, for the moment, to postpone episodes of Bergerac."